28 Aug 2020
New software puts wellbeing at the centre of cleaning activities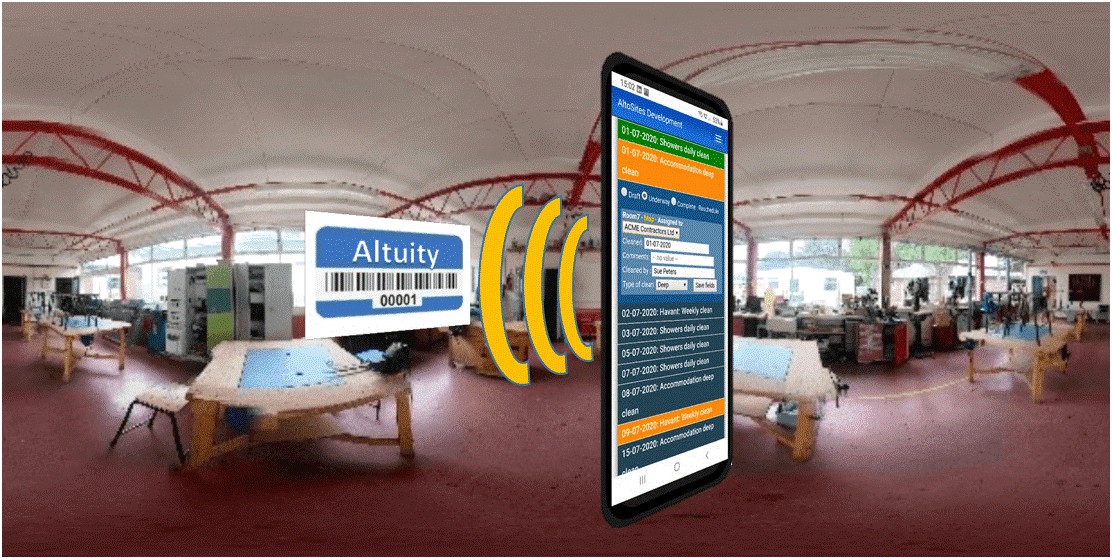 As a result of Coronavirus cleaning activities have an even greater impact on the wellbeing of people in a building. The users of the building, cleaning teams, site and facilities staff are all are affected. Creating the right level of assurance and confidence for people to feel safe is vital as they return to work.
So says Steve Voller, Founder of Altuity, a Bristol-based maintenance, facilities and asset management software company. "It's vital that facilities managers, school business managers and bursars know the who, what, where and when associated with cleaning their buildings and the assets within them," he says. "This is essential in creating a safe working and learning environment which directly impacts on wellbeing."
To help with this, Altuity has released a software solution which enables managers to cope with the increased level of cleaning and to take better decisions with the data being collected. Covid-19 issues such as managing cleaning team bubbles and isolation bubbles are managed by using, for example, floor plans.
"Ensuring cleaning regimes are followed and that facilities managers, SBMs, bursars and site teams are kept in the loop with cleaning activities is clearly an ever-increasing issue," Mr Voller comments.
"While in discussion with our customers, it quickly became apparent that the additional worries involved in managing cleaning activities was something we could help with.
"We're introducing simple technology which is affordable and easy-to-use. It includes the use of bar codes and smartphones, combined with a cloud-based system. Recording and managing cleaning information appropriately should be part of all organisations' processes and supports risk assessments."
"For many organisations, there's not been a need to consider replacing or complementing forms-based cleaning templates up until now. However, with more cleaning activities to monitor; greater risk to health and safety and the safe operation of a building paramount, our solution provides a way forward for many building managers."
Notes to journalists:
The software add-on incudes a bar code which automatically identifies the room, space or asset where the cleaning is to take place; shows what needs doing and by updating the cleaning information who did it. The software also shows when it's due to be done and when it was completed.
Customers with floor plans can easily view where cleaning needs to take place and the location of critical assets to be cleaned such as vents, extractor fans and shower areas. Floor plans also display the location of isolation and cleaning team areas which are important in minimising the risk of cross contamination.
Regular cleaning activities are scheduled automatically as well as supporting the need to respond to ad hoc cleaning calls. A reporting dashboard provides information on key performance indicators. Automatic alerts notify managers of cleaning issues meaning they can react appropriately. The health and safety and wellbeing of staff is a key concern so the software will flag if, for example, a new maintenance issue is located in an isolation area so that it can either be deferred or the facilities team know to wear PPE.
About Altuity
Altuity makes it easier to manage buildings, estates, assets and buried services. Our asset, maintenance and compliance software enables managers to gain insights, work smarter and achieve better outcomes. It uses advanced visualisation technology combining maps, site and floor plans and 360° photospheres to provide an easy-to-use experience for our users.
For more information, visit: www.altuity.com
For press enquiries, please contact:
Val Proctor
Patchwork Media Consultancy
07881 385510