10 Jun 2021
P & I's service and projects teams become engineers for a day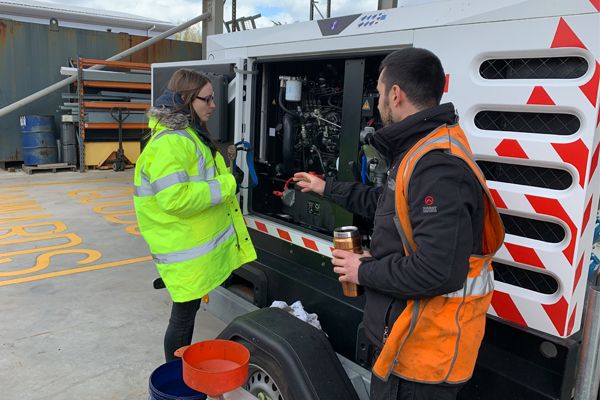 As part of the feedback from a recent staff survey, one of the areas highlighted to the leadership team was training. Taking on board the feedback, P & I's leadership organised a series of training days throughout May.
The first training day was an in-house session led by senior engineer, Toby Tadevossian, on Tuesday 4th May. The objective of the day was to give both the service team and projects team a better understanding of the role of one of our service engineers.
As part of the day, the team had to carry out a full service of a generator. Each member of the team was responsible for a different stage of the service, from pre-start paperwork and service checklist through to oil and filter change and load bank testing.
After lunch, the team moved onto cable pulling and connection, with each team member having a go at pulling cables ranging from 35mm up to 240mm. Having pulled a 240mm, 25 metre cable weighing around 70kg across our flat yard, the team had a new appreciation for the physical element of our engineer's role, especially when carrying out a 500 kW load test requiring 10 240mm cables.
Commenting on the training day, service control coordinator, Stephanie Marne said:
"I found the training very informative. Toby allowed me to carry out part of the service to be able to have an insight into how much is actually involved. I can appreciate that not everything is straight forward and our engineers work very hard."
Ashley Benfield, managing director of P & I commented:
"Not only is it important that we regularly ask our staff for feedback but it's even more important that we act on that feedback. Our staff spoke and we listened. We want our staff to know that we value them and their input to making P & I a great place to work."
Keep an eye out for our next blog about our sales team taking part in some interesting training all about their behaviour.