15 Jun 2021
Senior engineer celebrates 10 years' service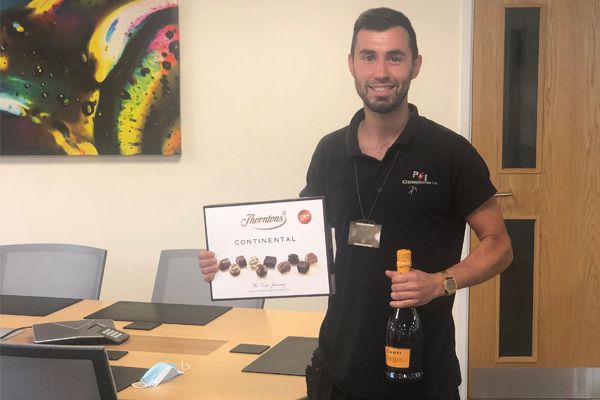 This month, we celebrate Toby Tadevossian's 10 years' service with P & I.
Toby joined us as an apprentice back on 6th June 2011, after meeting two of our staff members at an open evening at South Downs College. As an apprentice, Toby undertook his Level 3 NVQ Diploma in Installing Electrotechnical Systems and Equipment at Highbury College. Following the successful completion of his 4-year apprenticeship and NVQ, Toby was asked to continue with P & I as a fully qualified engineer.
Fast forward 10 years and Toby is now one of our senior engineers overseeing other engineers, training new staff, mentoring and providing technical help and advice when required. Last week, Toby was presented with a bottle of prosecco, a box of chocolates, an extra day's holiday and a cheque for £100 to mark his 10-year milestone with the company.
Commenting on his 10-year milestone, Toby said:
"I can't believe it has been 10 years already, I actually joined on my 18th birthday. Lots of people have said that it's the staff that makes this such a good place to work and that's definitely true. I've had many great mentors during my time here and have been well looked after throughout my career. I'm looking forward to many more years to come working with P & I."
Managing Director of P & I, Ashley Benfield commented:
"It has been a privilege to watch Toby grow throughout his career with us, from meeting him on his very first day, through to working with him now as a senior engineer. Toby has a great work ethic and always brings a positive attitude to everything he does. I would like to thank Toby for his service and his continued commitment to P & I."
Congratulations Toby on this great achievement from everyone at P & I!