28 Jul 2021
Supporting British Manufacturing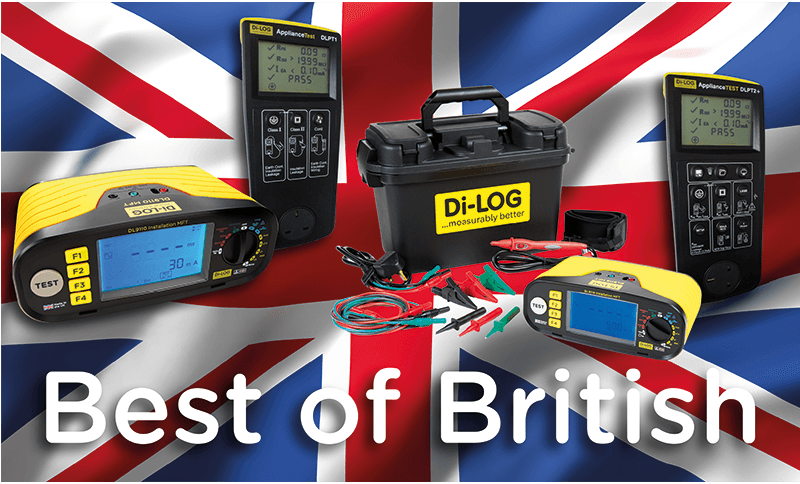 UK manufacturing has always been crucial to the UK's economic growth, and a healthy economy is critical for British manufacturing post Brexit and Covid-19. There are still uncertainties regarding the future of our economy anthough is does seem to be going in the right direction but strong GDP growth will be putting a greater emphasis on buying British.
Before I get accused of extreme patriotism, I do also believe that a diverse worldwide supply chain is required to sustain business supplying a commodity product, as well as the more specialist equipment, and this is no different for Di-Log. However, I do believe that when it comes to safety products such as installation testers testing to BS7671 [18th Edition] standards and portable appliance testers testing to the standards set out in the IET Code of Practice, British manufactured test equipment should be the first choice.
UK Quality
The UK has an excellent reputation for producing quality products within its shores with British-made products in high demand across the globe where you can be sure that the quality is nothing short of excellent. A recent survey stated that 60% of the most patriotic purchases came from the Manufacturing and Engineering sectors, which goes to show that there is huge support in the UK Manufacturing industry.
UK Jobs
As the demand for UK manufactured products grow, so does the businesses allowing businesses of all sizes to expand. Manufacturing is also a fantastic way for young people to start out in the workplace with more opportunities available for apprenticeships. There are some great benefits with the earn as they learn career, which will enable them to develop fantastic skills which will allow them to work their way up the ladder, or even set up a business of their own.
UK Products
Di-LOG are proud to support "British Manufacturing" by designing and building our specialist safety test equipment in the UK. All of our 18th Edition Multifunction Testers and PATs have a UK based R&D team dedicated to designing, building and delivering the most up to date technology to meet the continuous needs of our customers.
Developments such as the patented "Xpert Loop Technology" RCD-LOC XLT loop system in place on the new DL911x series Installation MFT. Di-LOG use a very clever algorithm designed to detect noise and 'RCD uplift'. The RCD-LOC XLT Algorithm will perform an additional loop test specifically looking for the effects of noise and if RCD Uplift is present. The DL911x Series MFT will then return an accurate loop test result with all the external effects removed in around 9 seconds.
The ApplianceTEST DLPTx Series Portable Appliance Tester offers fast and efficient electrical safety testing with the DLPT2+ model having the ability to connect a label printer and data storage of 999 assets, including free datalogger software. Enabling simple, professional and fast PAT testing, this versatile range of testers feature all the required tests set out in the current IET 4th Edition Code of Practice.
UK Manufacturing Future
I take great pride in the fantastic range products the UK has developed over recent times, an achievement which makes me feel safe in the knowledge that a thriving manufacturing sector will enable us to secure the future reputation of the UK in the world as an innovative and leading place to manufacture
UK Service
From time to time, things don't always go quite to plan and like any electronic device that is designed to work in the most extreme environment, there is always the odd hiccup, so to speak. With a UK based manufacturing, research, development and design teams, issues can be quickly found and resolved without your equipment potentially seeing more of the world than yourself!
UK Carbon Footprint
Supporting UK manufacturing where possible is crucial as you need to consider how you are contributing to a world that is sustainable. We all have a responsibility to look after our planet and reducing our "Carbon Footprint" will help towards protecting the future for the next generations to come. As I covered earlier, instruments traveling around the world for maintenance and repair are not helping to save our planet.
In Conclusion
In conclusion, whilst there are some fantastic products manufactured overseas and there will always be justification to follow this route, however, I also conclude that there are lots of good reasons to buy British, reasons which include economic, quality, integrity, pride and most importantly, proud to be supporting British Manufacturing. And you will be doing a bit towards reducing climate change.